Clashes erupted in the St Louis suburb for a second night, after a decision by a grand jury not to prosecute a white police officer for shooting dead an unarmed black teenager.
FERGUSON: Protest marches sprang up in cities across the United States on Tuesday (Nov 25), amid a tense security operation in Ferguson, the Missouri town at the centre of the country's latest racially-charged stand-off.
Clashes erupted in the St Louis suburb for a second night, after Monday's decision by a grand jury not to prosecute a white police officer for shooting dead an unarmed black teenager.
Missouri Governor Jay Nixon said the National Guard force in the Ferguson area had been be tripled to more than 2,000 troops to back up the officer's beleaguered local police force. Armed National Guard troopers sealed off West Florissant, the road running through Ferguson that was the scene of the worst looting and fire-starting on Monday. Police made at least two arrests. St Louis police said that one of their patrol cars had been vandalised by protesters who were trying to set it on fire.
At the Ferguson police station a cordon of 50 riot police faced off across a road with around 100 noisy protesters chanting and waving placards, including one that read: "We will not be silenced." Inside the perimeter of the station, National Guardsmen equipped with riot shields and batons could be seen preparing for the night.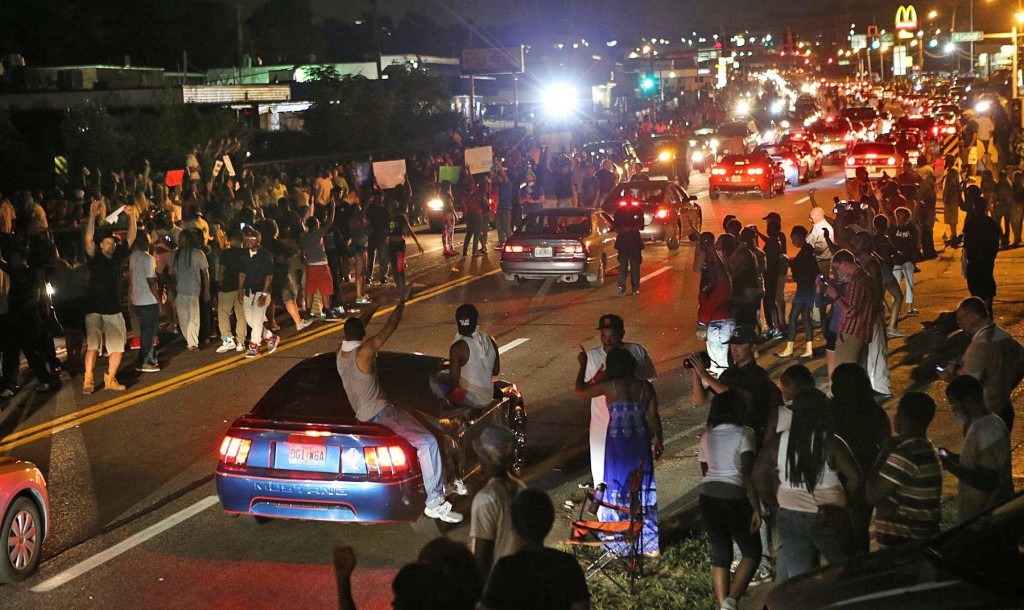 The protest crowd was smaller than it had been on Monday, but some masked agitators could be seen on the fringes of the demonstration and the mood was tense. "Lives and property must be protected. This community deserves to have peace," Governor Nixon said, as anger mounted nationwide.
Meanwhile, marchers disrupted traffic on bridges and in tunnels in New York city – leading to a number of arrests – and a peaceful crowd took to the streets in downtown Washington, near the White House.
Similar angry but largely peaceful protests sprang up in cities large and small, from Los Angeles and Seattle on the west coast to Atlanta, Philadelphia and Baltimore in the east.
US President Barack Obama called for rioters to be prosecuted, while acknowledging the deep-rooted frustrations of minorities who feel they are unfairly treated by police. "There are productive ways of responding and expressing those frustrations and there are destructive ways of responding," he said. "Burning buildings, torching cars, destroying property, putting people at risk. That's destructive and there's no excuse for it. Those are criminal acts."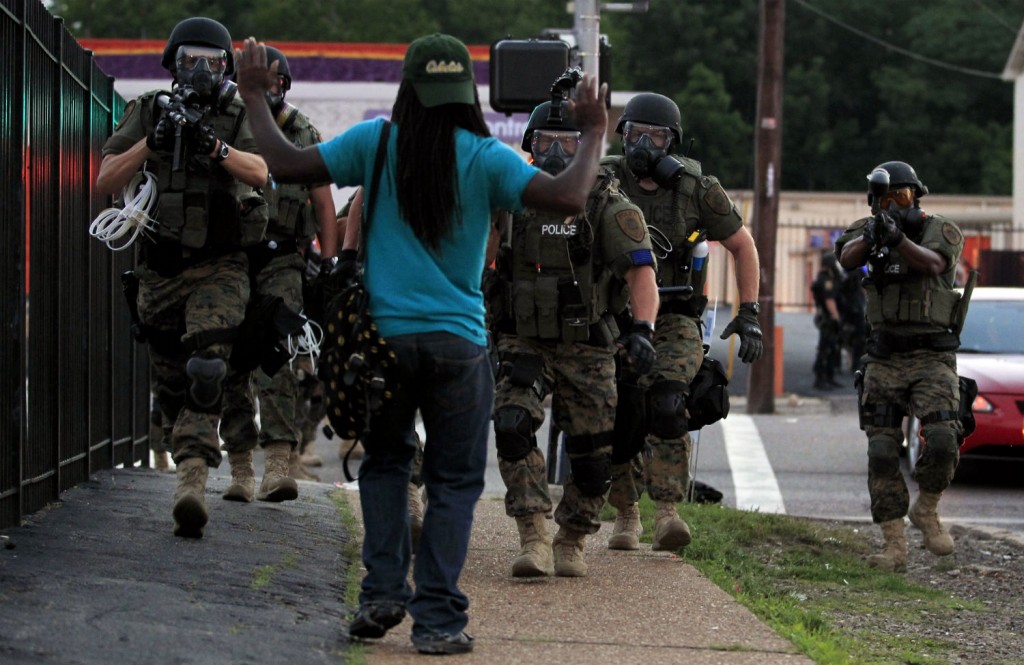 BROKEN PROCESS
Lawyers for the family of slain youth Michael Brown denounced the prosecutor whose grand jury hearing found that police officer Darren Wilson had killed the 18-year-old in self-defence. "This process is broken. This process should be indicted," Brown family lawyer Benjamin Crump told a news conference. Crump criticised the way Wilson had not been cross-examined when he appeared before the grand jury, which decided not to indict him over the Aug 9 shooting.
But in his first televised comments since the incident, Wilson told ABC News he had feared for his life during the confrontation, believing Brown was attempting to wrestle his gun away from him. "I can feel his hand trying to come over my hand and get inside the trigger guard and try to shoot me with my own gun," Wilson said. Asked if he believed he would have acted the same way if Brown was white, Wilson responded: "No question."
The officer said he was comfortable that he had acted correctly. "I don't think it's haunting. It's always going to be something that happened," he said, adding that his conscience was clear because "I know I did my job right."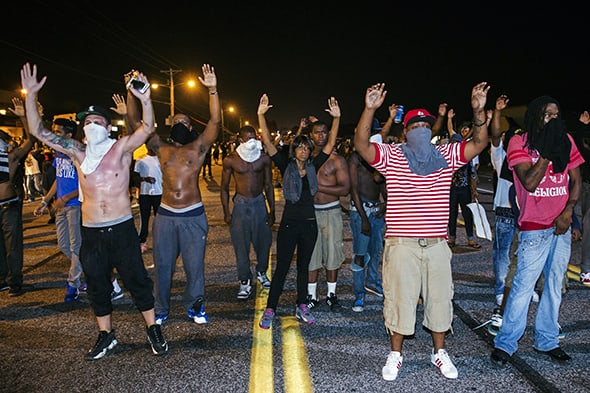 A NATIONWIDE PROBLEM
Civil rights firebrand Al Sharpton said the Brown case renewed a nationwide fight for greater police accountability. "This is not a Ferguson problem. This is a problem all over the country," Sharpton said. "We may have lost one round but the fight is not over. They have broken our hearts, but not our backs."
Separate protests flared, meanwhile, in Cleveland, Ohio, following the fatal shooting by police of a 12-year-old black boy holding a replica gun at the weekend.
Despite appeals by Brown's family for calm in Ferguson on Monday, protests rapidly degenerated into looting, arson and running street battles between police and stone-throwers.
Ferguson mayor James Knowles meanwhile declined to comment on Tuesday on Wilson's future, saying only that the 28-year-old officer remained on administrative leave. "His current employment status has not changed," Knowles said.
The August shooting of Brown sparked weeks of protest and a debate about race relations and military-style police tactics. The Ferguson grand jury concluded Wilson had acted lawfully in firing 12 shots at Brown after he first reached into the officer's car to grapple with him, then turned on him as he gave chase.
Brown's death, the aggressive police response to protests and now the result of the grand jury hearing have stirred racial tensions in Ferguson, a mainly black suburb with a mostly white police force. The town's community of 21,000 has been on edge since the shooting, and residents complain of years of racial prejudice and heavy-handed police tactics.