We know that Microsoft is planning to add a whole bunch of new features to the next iteration of Windows and we heard some very interesting rumors regarding them for the past couple of months. Perhaps the most interesting of these rumors is that Cortana will make her way to Windows 9 when it releases next year. The Halo inspired personal assistant is already available to Windows Phone so I guess Microsoft decided that a desktop version will also be pretty neat. Can't really argue with that. We heard rumors about this on more than one occasion, but now we also have a leaked screenshot of the Windows 9 preview courtesy of German website WinFuture to feast our eyes upon.
Admittedly, the image doesn't reveal much, but it does confirm the presence of Cortana on desktop. The mentioned website leaked many Windows 9 screenshots in the past which seem to be the real deal so we'll think of them as a reliable source until proved otherwise. Unfortunately this screenshot doesn't show Cortana's full interface, but we have some info in regards to how it will work on Windows 9 thanks to a previous leak. Unlike the Windows Phone version, desktop Cortana will not be a fullscreen experience and you will find her in the form of an app. Opening this up will bring up the assistant in all of her glory complete with animations and the already familiar face. Aside from a few technicalities, Cortana will serve the same function as her Windows Phone counterpart, which means that you can ask her a question (either verbally or by texting) and she will answer it to the best of her ability.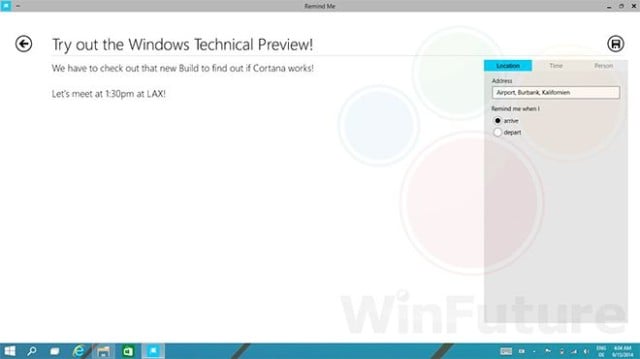 Earlier rumors were saying that Microsoft is still experimenting with Cortana and she might not make it to Windows 9 after all. However, this screenshot, if real, proves that she is indeed ready for Windows 9 and we might see her later this month when the preview is said to launch.  Word on the street is that Microsoft will release the technical preview on September 30th so that will be the day when the general public will have access to the new operating system for the very first time.