Apple's first attempt at smartphone over 5 inches brings it to battle with the latest and greatest Android phones of about the same size.
The days of Android fanboys and fangirls mercilessly mocking the 4-inch Apple iPhone screen are over. The 5.5-inch Apple iPhone 6 Plus (and to a lesser extent the 4.7-inch iPhone 6) smash the iPhone screen record, and in doing so, start competing toe-to-toe with today's top big-screen phones.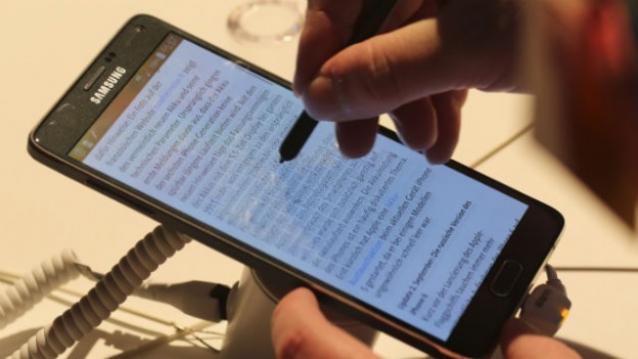 LG's 5.5-inch G3 and Samsung's freshly-unveiled Galaxy Note 4 (and kooky Note 4 Edge) rise to the top in terms of stature and specs. Here's how Apple's iPhone 6 Plus compares.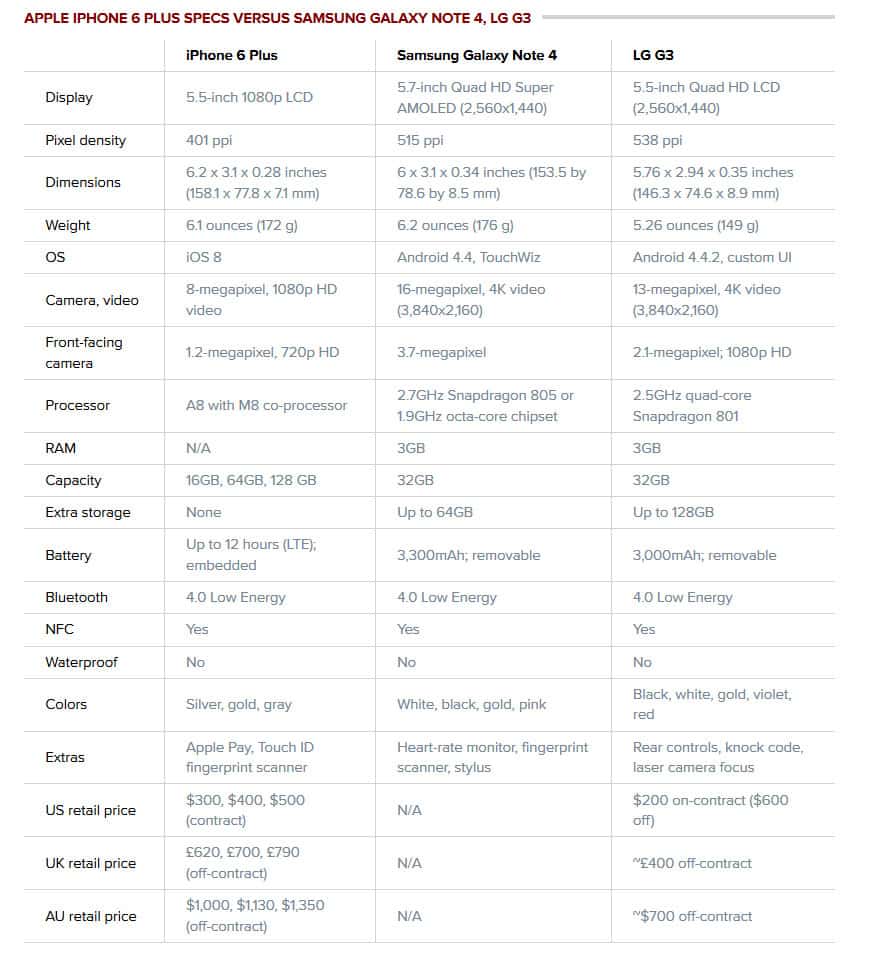 Metal versus plastic
Apple's iPhone continues to favor aluminum craftsmanship, while the Note 4 adds a metal frame. The LG G3, meanwhile, sticks with a lighter plastic construction for its phone housing.
Screen resolution
One of the major differences along these phones comes down to the screen resolution. The iPhone 6 Plus has the same 5.5-inch display size as the LG G3, but is the only one of the three to use a 1080p resolution display instead of the more pixel-packed Quad HD resolution of 2,560 x 1,440 pixels.
As a result, the iPhone 6 Plus' pixel density is significantly lower than both the Note 4 and the G3. When we hold the screens side-by-side we expect to see that difference on content that supports ultrarich detail, like 4K videos and photos.
Camera
The megapixel war rages on among most handset-makers, pushing up the number of pixels captured to 13 and 16-megapixels. Apple (and separately, HTC) takes a different tack, keeping megapixels steady at 8 for the rear camera and 1.2 for the front.
Source:http://www.cnet.com/news/iphone-6-plus-specs-versus-samsung-galaxy-note-4-lg-g3/       and        http://www.apple.com