As many automakers downsize and turbocharge engines, Ford is doing the exact opposite, sticking with a big, traditional V8 in its highly anticipated Shelby GT350 Mustang, unveiled this week at the Los Angeles Auto Show.
The burly muscle car is a more powerful version of the recently released, all-new 2015 Ford Mustang GT. It features sophisticated upgrades never before seen on a Mustang, such as a MagneRide suspension similar to systems used in the Chevrolet Corvette Stingray, Ferrari 458 Italia and Porsche 911.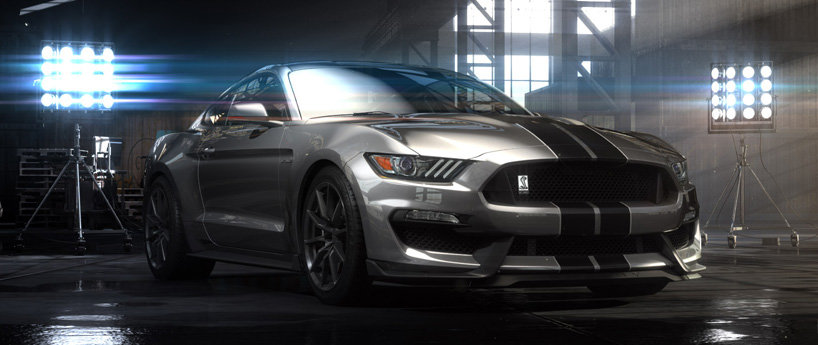 The Shelby GT350's high-revving 5.2-liter V8 produces 500 horsepower and 400 pound-feet of torque, which is 64 horsepower more than the regular Mustang GT and the same amount of torque. This engine recalls the 4.7-liter V8 from the original 1965 Shelby GT350 Mustang, a classic that marked the start of a long association between the Mustang and iconic performance tuner Carroll Shelby.
"If you drive a '65 GT350, there is such an incredible emotional response you get out of hearing the 289 [cubic-inch V8 engine], and that was just an emotional thing that we needed to reproduce with this car," said Jamal Hameedi, Ford's global performance vehicle chief engineer, in a one-on-one interview following the debut at the L.A. auto show.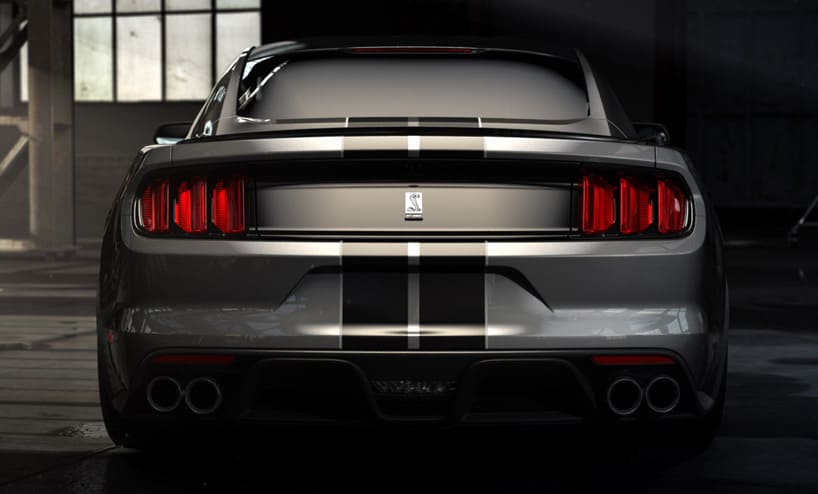 Contrast that with the downsized and turbocharged engines of the new BMW M3 and Mercedes-Benz AMG GT. Such engines are proliferating because they produce as much power as larger non-turbocharged engines — or sometimes even more — yet get better fuel economy. The tradeoff is that turbos can create a lag in power delivery, and they dampen the distinct engine sound driving enthusiasts relish.
The crankshaft in the Shelby GT350's V8 is flat instead of circular, which saves weight and thus allows the engine to rev faster than usual so it can develop more horsepower. It's the first time that Ford is using a flat-plane crankshaft in a production V8.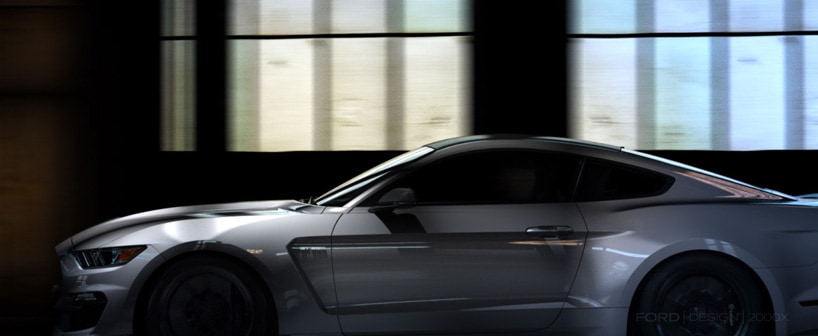 But there are other important advances on the Shelby GT350, perhaps most notably the sophisticated suspension system, which uses magnetic currents to vary the ride stiffness based on road conditions and how the car is driven.
"It's reading all of the sensors every 8 milliseconds and it can react every 10 milliseconds, so it can adjust one single damper to help your turn-in response before the car can even react to it," Hameedi said.
This is the first time such a system has been used on a Mustang. Paired with the new independent rear suspension system — which debuted on the standard 2015 Mustang — it takes the car's handling potential to a whole new level. The old joke that American muscle cars can only go fast in a straight line no longer applies to the Ford Mustang, and especially the Shelby GT350.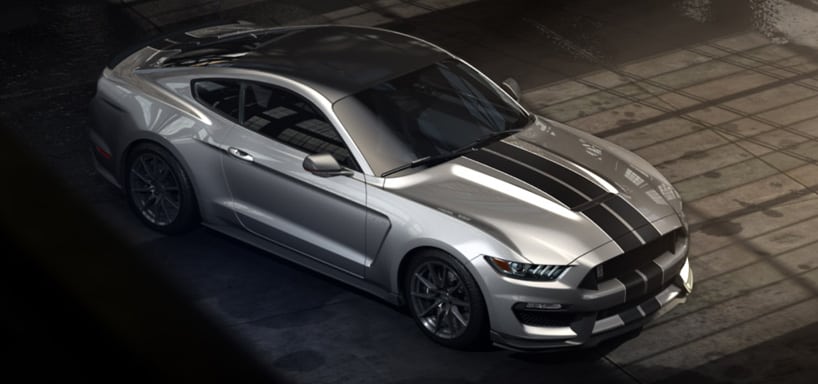 Another way the Shelby GT350 mimics the latest high-end sports cars is by offering five driver-selectable modes that vary the suspensions stiffness, throttle response, steering feel, traction control and other parameters.
The specially designed front and rear bumpers have inlets and diffusers to channel air and increase aerodynamic downforce, which helps the car better grip the road. There's even a tray under this track-oriented Mustang similar to ones used on race cars, which adds more downforce.
All of the body panels on the Shelby GT350 ahead of the windshield are different than those on the standard Mustang. Here again is another contrast from Ford's past efforts: Whereas former Shelby Mustangs featured raised hoods with so-called "power domes" to accommodate bulkier engines, the new Shelby GT350's hood is actually lower than that of the regular Mustang.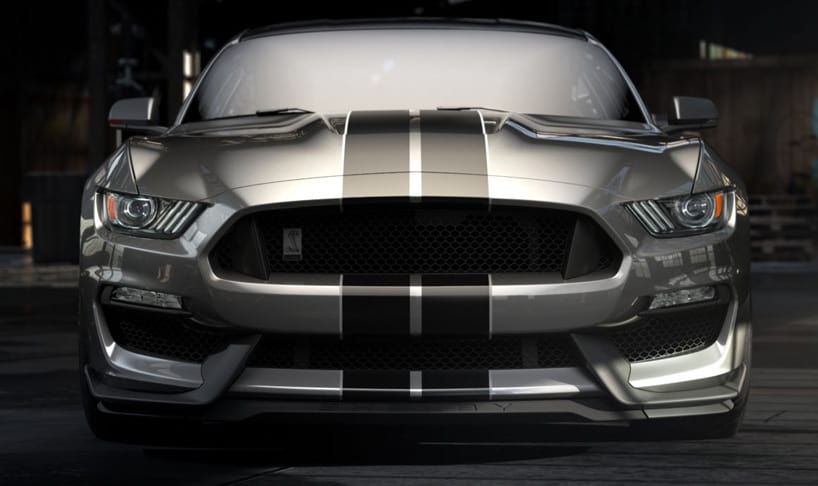 This isn't for looks, but to compensate for the wider front fenders, which increase aerodynamic drag. Making the hood lower offsets the added surface area of the fenders.
"One of the big priorities of the car was that we wanted to create downforce front and rear, which is not an easy feat to do when you're given a platform and it's a front engine car," Hameedi said. "To create downforce on that kind of a car without creating huge drag is pretty challenging, so aerodynamics were a key theme in the beginning of developing the car."
The only transmission available on the Ford Shelby GT350 Mustang is a six-speed manual, the driving purist's choice. The massive, cross-drilled brakes are among the most powerful in terms of stopping power of any Ford to date, with the idea that the Shelby GT350 is truly meant to be thrashed on race tracks. To that end an optional Track Pack offers oil and transmission coolers.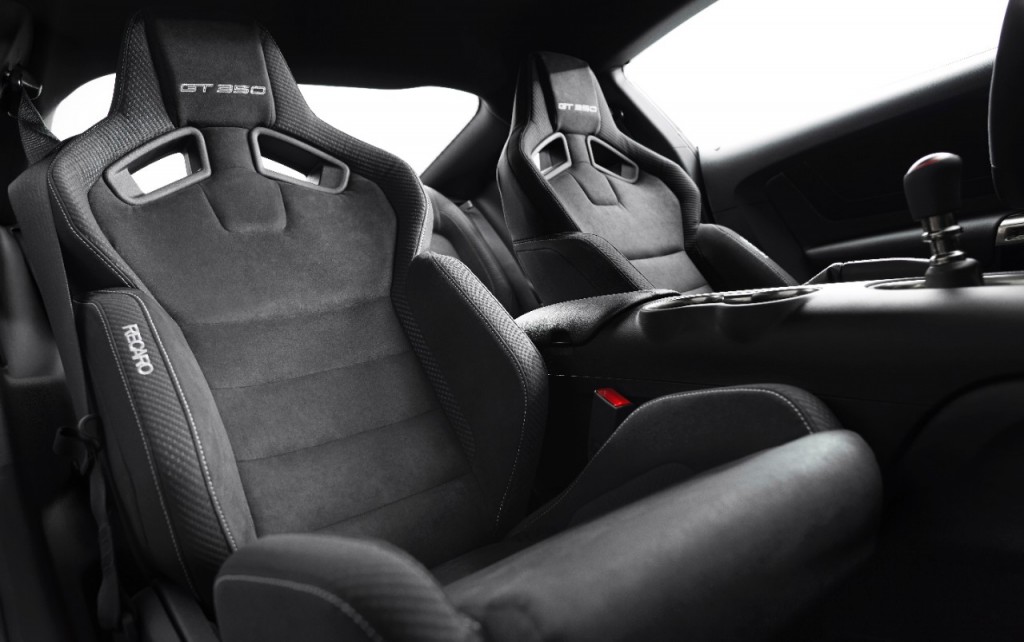 Also in keeping with its singular focus on track performance, the Shelby GT350 Mustang is not loaded up with amenities. Features such as dual-zone climate control, power-operated leather seats, hi-fi audio system and an eight-inch touchscreen must be ordered with the optional Tech Pack. Even the bright chrome accents available on the regular Mustang are expunged from the Shelby GT350, so as not to risk creating distractions with glints from sunlight.
The seats are a big step up from those in the regular Mustang. They are newly designed by Recaro, an Italian company that specializes in making racing seats. They can be upholstered with faux suede, just like in a race car. (Seats in general are getting a lot of attention in performance cars lately; we were very impressed with the ones in the newly redesigned Chevy Corvette, as discussed here.)
Ford has not released full specs for the Shelby GT350 Mustang, but expect a 0-to-60 acceleration time and pricing somewhere between that of the regular 2015 Mustang GT and the previous-generation Shebly GT500, which has a larger supercharged V8 that puts out an astounding 662 horsepower.
"We had a really great successful run with the GT500," Hameedi said. "We kind of wanted to do something a little different. If we had done a GT500, it would have been nose-to-nose with the [Dodge Challenger] Hellcat. Instead, this is kind of in a white space we think in terms of technology and purpose."
The Ford Shelby GT350 Mustang, which goes on sale next year, competes directly with the Chevy Camaro Z28, another track-focused muscle car with a non-turbocharged V8 engine.