Check out how the specs from Apple's latest iPhone 6 compares to those of its Samsung Galaxy S5 and HTC One M8 flagship rivals.
In addition to the larger 5.5-inch iPhone 6 Plus and Apple Watch wearable, Apple unveiled the iPhone 6, a stylish 4.7-inch handset with a faster A8 processor, NFC, and a 720p Retina HD display. Available on September 19, the phone will launch in eight countries, including the US, UK, Australia, and parts of Asia.
Though it shows marked improvements from its previous iteration, the new iPhone faces stiff competition from its Android rivals. Namely, the Samsung Galaxy S5 and the HTC One M8 — both of which sport bigger touchscreens, expandable memory, and quad-core processors.
To see how these devices stack up against each other on a spec-by-spec basis, take a peek at our chart below. And for more information on Apple's September 9 keynote, check out CNET's full coverage.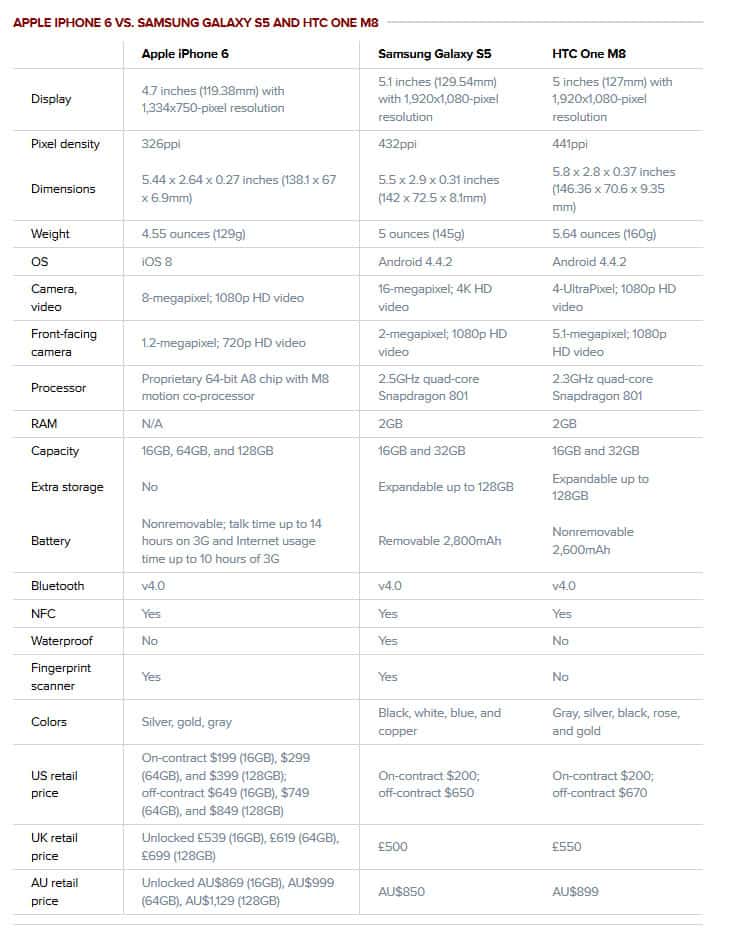 Source: http://www.cnet.com/news/apple-iphone-6-vs-galaxy-s5-and-htc-one-m8/